This is a low-cost integrated single-skin steel partition system suitable for a wide range of applications, including industrial offices, storage areas, and factory dividing walls.
A comprehensive range of single and double swinging doors, sliding doors and hatches are available. These can be fitted with most types of locks and latches, including interlocks.
The panels are bolted together using M8 bolts and nuts, the panels are also fixed to the floor with pan head screws and 6mm plastic plugs. Posts are used every third panel and are fixed to the floor with 12mm anchor bolts and in-fills come as 21 SWG CR4 sheet steel or 50mm x 50mm x 12SWG weld mesh.
Technical Information
Standard Panel Heights: 2440mm and 3050mm
Standard Panel Widths: 1220mm, 1000mm, 915mm, 610mm and 305mm
Dado Height: 1220mm
Single Doors: 1980mm high x 915mm wide
Double Doors: 1980mm wide x 1806mm wide
Welded Mesh Sheet: 50mm x 50mm x 12 SWG
Windows: Up to 6.4mm glass set in plastic glazing bead
Posts – 2 Way : 80mm x 40mm x 3mm
Posts – 3 Way & Corner: 80mm x 40mm x 3 mm
Standard Paint Finishes: Yellow RAL 1018, Grey BS00A05 And Sandstone BS08B17
 Construction: Cold rolled mild steel angle and cold rolled tees with sheet steel or welded mesh infill sheets spot welded together
We offer a full fitting service on all our products.
Why Get A Mesh Partition?
Warehouses in various industries often require efficient and optimised storage areas to streamline their operations. One approach that has gained popularity is the implementation of mesh steel partitioning within warehouses. Mesh partitions, also known as mesh panels or wire partitions, are versatile modular systems constructed using interconnected wire mesh panels. These partitions offer several benefits that make them desirable for warehouse applications in the UK.
Improved Security: Security is a paramount concern for warehouses, especially when storing valuable or sensitive inventory. These partitions act as a physical barrier, preventing unauthorised access to specific areas. By installing partitions, warehouses can effectively segregate high-value items, confidential documents, or restricted areas from general storage areas, reducing the risk of theft or tampering.
Flexibility and Customisation: Warehouses often need to adapt their storage layouts to accommodate changing inventories or operational requirements. A mesh partitioning mesh system provides the flexibility required to create custom storage spaces within a warehouse. They can be easily installed, removed, or repositioned, allowing warehouses to modify their layout as needed. Furthermore, partitions are available in various sizes and configurations, and we can also create a bespoke mesh partitioning system for your secure solution.
Enhanced Organisation: Mesh partitions contribute to improved organisation within warehouses by creating designated zones for different types of inventory. By partitioning specific areas, warehouses can segregate products based on factors such as size, fragility, or category. This segregation enables easier inventory management, reduces the risk of damage, and enhances the overall efficiency of order fulfilment processes.
Why Choose Us?
At Billingtons, we take pride in being a leading provider of high-quality mesh partitions for warehouses in the UK. When it comes to choosing the right supplier for your mesh partition needs, there are several compelling reasons why Billingtons stands out from the competition.
First and foremost, our mesh partitions are built to last. We utilize solid steel mesh panels in the construction of our partitions, ensuring exceptional durability and strength. The solid steel composition of our mesh panels provides superior resistance to impact and wear, making them ideal for heavy-duty industrial environments. With Billingtons' mesh partitions, you can have peace of mind knowing that your storage areas are securely protected by a robust barrier.
Another key advantage of choosing Billingtons is our commitment to cost-effective solutions. We understand that budget considerations are essential for warehouses, and our mesh partitions offer excellent value for your investment. Our efficient manufacturing processes and strategic sourcing allow us to offer competitive pricing without compromising on quality. By choosing us, you can achieve a cost-effective storage solution that meets your budgetary requirements.
Security is a top priority for any warehouse, and our mesh partitions are designed with that in mind. Our hinged doors come equipped with reliable locking systems, ensuring that your storage areas remain secure at all times. Whether you need to restrict access to valuable inventory or create secure enclosures for sensitive materials, our locking systems provide the level of protection you require. With Billingtons' mesh partitions, you can have confidence in the security of your warehouse storage spaces.
Furthermore, our mesh partitions feature hinged doors, which offer convenient and easy access to your stored items. The hinged doors provide a smooth opening and closing mechanism, allowing for efficient movement of personnel, equipment, and inventory. This accessibility contributes to improved workflow and productivity within your warehouse.
Frequently Asked Questions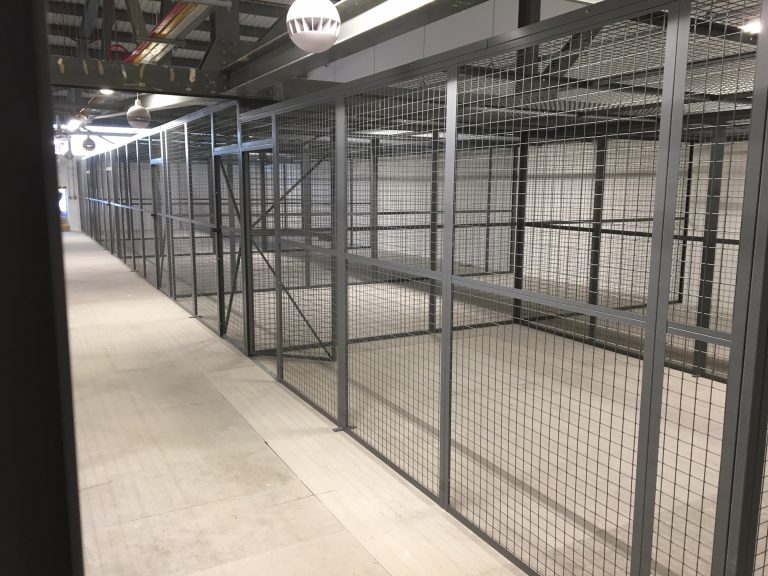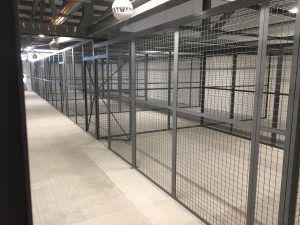 Mesh Partitioning
In the complex world of warehousing, space utilisation remains paramount. As businesses grapple with the challenges of stock management, distribution efficiency, and cost savings, finding
Read More »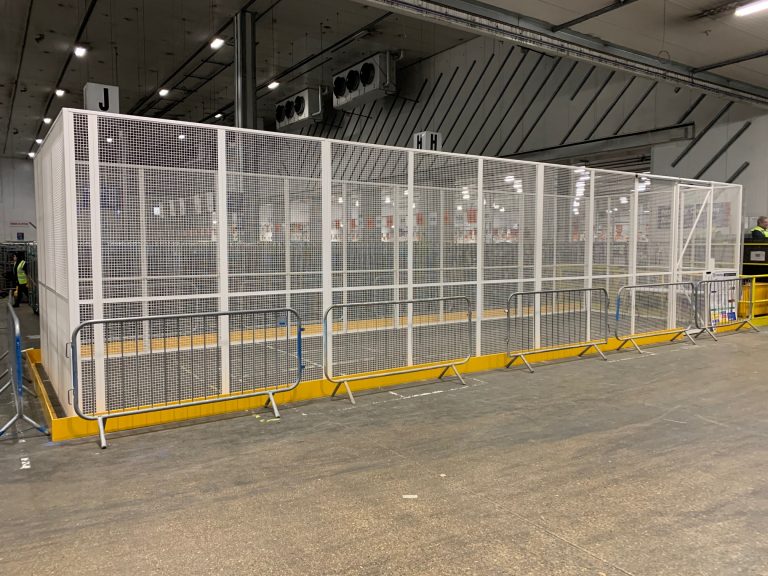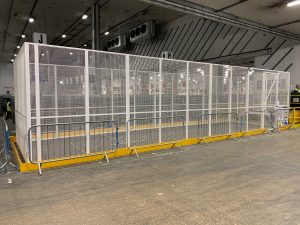 Mesh Partitioning
In a rapidly developing world where efficiency and safety stand as pillars of productivity, warehouse safety has emerged as a crucial topic. As the backbone
Read More »


Mesh Cages
Supporting the flow of your inventory and ensuring the smooth running of your business, your warehouse racking system is the invaluable backbone of your operation.
Read More »